Begin the process by logging on to a Windows Server 2008 domain controller, and opening the Group Policy Management console. Now, navigate through the console tree to Group Policy Management | Forest: <your forest > | Domains | <your domain > | Group Policy Objects. When you do, the details pane should display all of the group policy objects that are associated with the domain.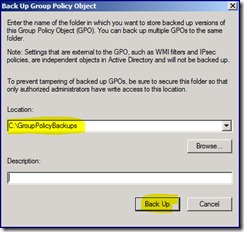 Next, right-click on the Group Policy Objects container, and choose Back Up All. As you can see, this dialog box requires you to provide the path to which you want to store the backup files.
Once you have entered the backup location, click Back Up.
The Restore Process
When it comes to restoring a backup of any Group Policy Object, you have two options. The first option is to right-click on the Group Policy Object, and choose the Restore From Backup command from the shortcut menu. When you do this, Windows will remove all of the individual settings from the Group Policy Object, and then implement the settings found in the backup.